Essence of up-country Thailand
This is an essential view of life in up-coutry Thailand.
The main image:
I have taken a smartphone snap of my hand holding an exceptional taste treat...an ice-cream sandwich! A fresh bread bun, with texture more like sponge cake than bread...the bun has been cut to create a valley...deep in the valley lies a scoop of sweet sticky rice...on top of the rice are five scoops of freshly made coconut ice-cream...over the ice-cream has been drizzled a spoon of nuts and a squirt of chocolate syrup.
In the lane, at the front of our house-yard, Na is purchasing several more ice-cream sandwiches for the sweet tooths in our extended family.
In the second image, you can see Na has the company of three of our dogs ...all patiently waiting for the extra ice-cream sandwich Na has purchased, and will share among them...our dogs know a snack opportunity exists when they hear the ice-cream vendor approaching.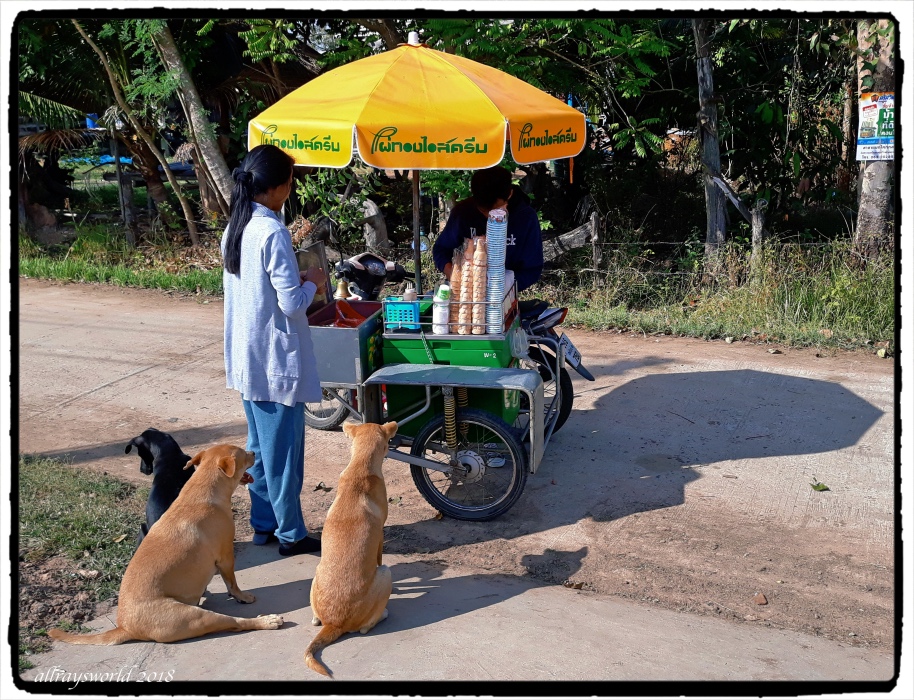 | | |
| --- | --- |
| camera | SM-J730GM |
| exposure mode | full manual |
| shutterspeed | 1/5000s |
| aperture | f/1.7 |
| sensitivity | ISO40 |
| focal length | 3.7mm |
Australia #19
Cooperative Comp...
A Welcome Guest