Far East Thailand #1
Come with me on a short tour of Far East Thailand.
I am travelling with friends Tim, Koen and Piya, on one of our Fabulous Four Budget Tours. We will be away for 4 nights. Our basic mode of transport is Tim's comfortable Toyota limousine, which we will enhance as appropriate with segments on bicycle, boat and Shanks' pony [walking]. We will stay in cheap accommodation.
Tim and Koen travel to my house from Bangkok, so the three of us can perform some last minute planning [aka drinking beer] for part of Night #0. Piya is a new recruit, and doesn't have any experience of our tour style...he has decided to meet us at the halfway point of the trip, as he has been alarmed by Tim's description of the plan for the first two days..."tens of kilometres of slogging through deepest jungle in search of the mythical Emerala Triangle"...he will fly to Ubon Ratchathani, which is near the Laos border, and we will pluck him from the airport lounge.
Here is a section of the Tourist Map that directs us to "Shangri La". To assist you, I have placed digital map-pins at our sleeping places...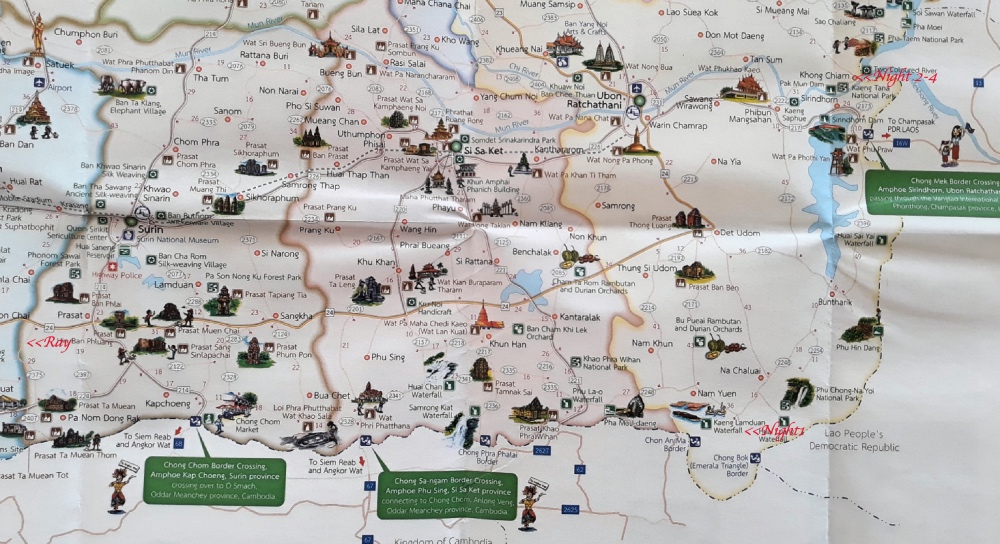 | | |
| --- | --- |
| camera | unknown |
| exposure mode | full manual |
| shutterspeed | unknown |
| aperture | f/0.0 |
| sensitivity | unknown |
| focal length | 0.0mm |
Bike Tour 2019 #...
Far East Thailan...
Refreshing