Far East Thailand #02
We make an early start, as we plan to stay tonight in the Phu Chong Na Yoi National Park, where our bungalow will be beside a thunderous Waterfall and just a jungle trek away from The Emerald Triangle...the fabled conjunction point of borders of Thailand/Cambodia/Laos.
We make the road trip without major incident...although do get denied access to one National Park, and we do find ourselves in a Mom&Pop store where the canned beer is miraculously 30% cheaper than any other retail outlet in Thailand.
Finally in the National Park, we take possession of our bungalow, and then chalk up a set of significant underwhelmings:
1. A Soldiers barricade denies us access to the Emerald Triangle viewpoint by 2 kilometres...some un-broadcast falling-out among neighbours!
2. The waterfall is close by but, alas, the volume of flow has been reduced to a mere trickle of about the volume of a dog lifting its leg on a car wheel!
3. We are studying the rock pools [see main image] , but finding it difficult to reconcile with the wondrously LSD-fueled poetic description offered in the brochure [shown below]...this is the "stone divine is let, a stone was have the tide then until is born is a lot of round small-sized big shallow deep different holes go to follow the intensity of stream, see strange-looking beautiful extremely."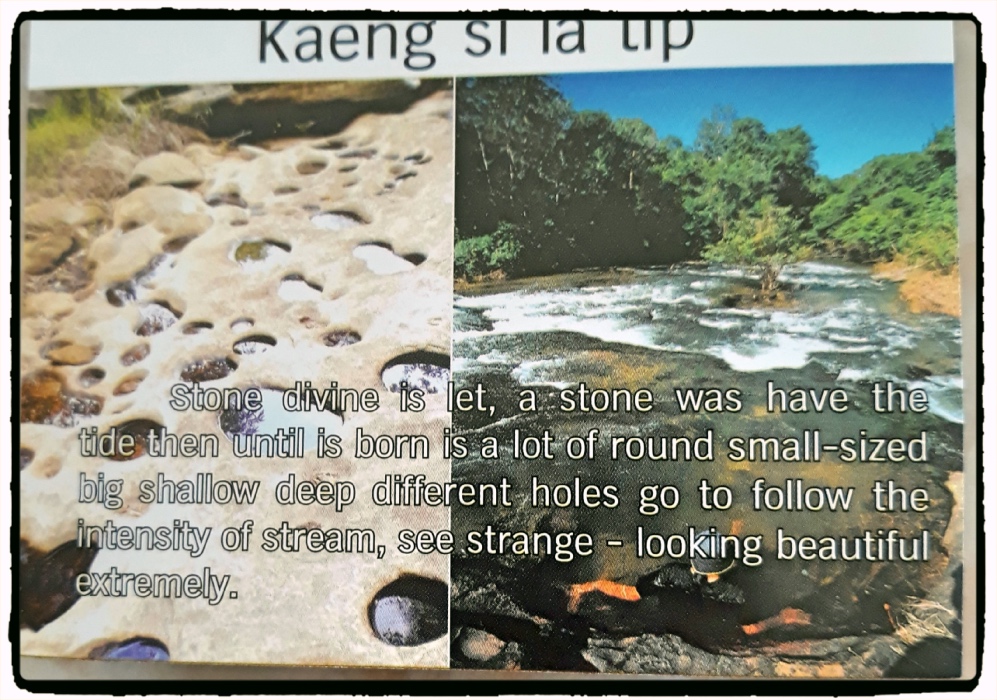 No matter...we have an ice-box, with cheap beer, and more than enough comfortable beds...