Inland Sea #1
On a daily basis, Thailand is full of surprises.
Recently we heard about a beach resort in our province of Surin. Surin is landlocked, with the closest Thailand seaside about 350km South of our house. So...we went to investigate.
This is Thunggular lake...abut 120km North of our house...in Surin Province, but close to the next Province of RoiEt.
It is a lake of about 200 hectares area. Its water is clean, and distinctly green/blue. It has a narrow sandy beach. There are floating shade-houses for the visitor to hire...Kitchens offer the usual Thailand beach fare which is delivered to the shade-houses. The shade-houses serve as a barrier to enable safe water-play in fairly shallow water. On the other side is deeper water, for jet-skiis tugging banana boats...just like a typical Thailand beach.
I admit to being pleasantly surprised. It works...a long day trip for us but an ocean beach would be a long-weekend excursion. Hire of facilities and food prices are quite reasonable. Our car-full of kids had a fine day out!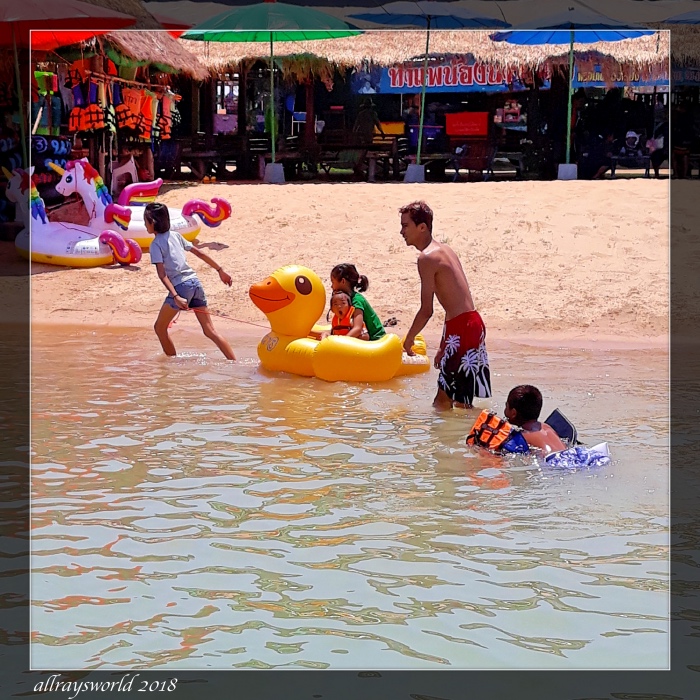 | | |
| --- | --- |
| camera | SM-J730GM |
| exposure mode | full manual |
| shutterspeed | 1/2500s |
| aperture | f/1.7 |
| sensitivity | ISO40 |
| focal length | 3.7mm |
Bike Tour 2019 #...
Growth
Far East Thailan...